"Heathrow Expansion is a national resource – we are scouring every corner of the UK; we want the whole country to participate in TeamHeathrow"
Posted on Thursday, May 18, 2017, at 11:09 AM
An interview with Lord Deighton, Chairman of Heathrow Airport.
As Heathrow Airport looks to "decentralise its supply chain across the UK" Lord Deighton explains how 10,000 apprenticeships will be created and how systematic measures are being taken to allow all kinds of British enterprises to participate in the £16 billion Heathrow Expansion.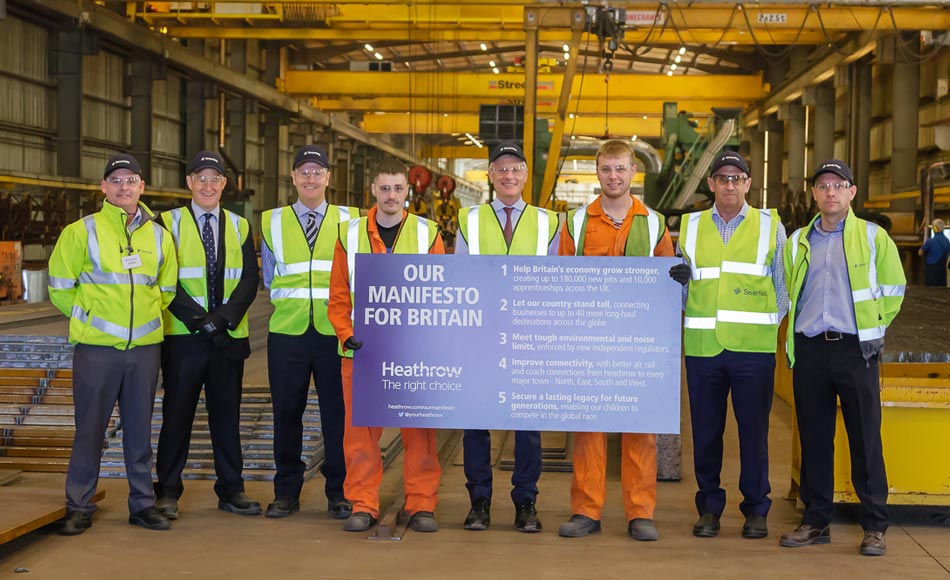 Lord Deighton doesn't think the job of championing Heathrow Expansion is any more difficult (or easier) than organising the hugely successful £9 billion London Olympics. "There are many similarities and that was why I was inspired. In 2012 Heathrow was the way in which we welcomed the world to London, and I was very engaged in making sure it operated well in that period. Later on, of all the projects I worked on at the Treasury, including Crossrail, HS2, and Hinckley Point, it was Heathrow Expansion which offered the biggest economic benefit to the country. I feel helping to make it happen is part of my destiny."
But Deighton agrees on an important distinction: The main theme of his work has now shifted from 'why' to 'how'. "Despite the successful Olympics bid in 2005, I still spent much of the first three years explaining why we were doing it. But the thrust of my message today is 'now we're going to do it, let's do it really well' – let's put all our resource and intelligence into expanding Heathrow in a way that delivers all the enormous benefits of broad national interest. That's Heathrow's central parallel with the Olympics approach."
The Heathrow Chairman also relates where the two projects contrast: "For the Olympics I had to build the entire delivery organisation and assemble all the skills from scratch. At Heathrow I already have a very mature, very successful team of people working at the most experienced international hub in the world – the best commercial, operational, and developmental best practice which has recently seen the delivery of Terminal 5 and The Queen's Terminal."
Lord Paul Deighton KBE – Curriculum Vitae:
2016- Chairman, Heathrow Airport Ltd
2013-2015: Commercial Secretary to the Treasury (with responsibility for implementing the Government's National Infrastructure Plan)
2005-12: Chief Executive, London Organising Committee of the Olympic and Paralympic Games (LOCOG)
Previously: Chief Operating Officer, Europe, Goldman Sachs
Ensuring national economic impact from a £16 billion expansion
It is firmly accepted that the economic benefits of the completed Heathrow Expansion will be the creation of 180,000 jobs and an overall £211 billion economic impact. But Deighton is also very clear in spelling out the self-contained benefits of the £16 billion private investment: "We have already mobilised about 2,000 people in planning, design and construction. But we expect to generate a further 10,000 apprenticeships over the life of the build – a huge multiplier effects, a permanent investment in people, lasting well beyond 2025, a real legacy for future infrastructure projects."
He gives another example from his experience during the construction of the Olympic facilities: "When we first undergrounded the electricity pylons at Queen Elizabeth Olympic Park we had to develop brand new tunnelling expertise. Later on we witnessed the same waves of trained people transition these skills and capabilities to Crossrail, the Thames Tideway, and later they will most likely also work on HS2."
Deighton says Heathrow cannot afford to think that a human resource pool of this size will simply happen: "We are doing a big supply and demand analysis to match the needs of Heathrow Expansion with the availability of skills from education, contractors, and others to ensure they are available when required over the next 10 years of the build – and the subsequent operation of the expanded Heathrow. That supply and demand analysis is being performed by the Heathrow Skills Taskforce under the leadership of (Lord) David Blunkett."
Championing the "efficiency of SMEs" – and Heathrow's "outreach"
Deighton recently related how one-third of Heathrow's tier 1 suppliers are SMEs, up from 20% in 2013. He explains why this matters: "The marked difference with the Heathrow Expansion is the efforts we are making to scour every corner of the country to embrace SMEs – we understand that's part of the contract we have as a national resource. We have totally bought into that contract, so it is very important that we conduct the project in a way that allows the whole country to participate."
According to Deighton, British SMEs have the capacity to deliver superb solutions, but what they don't always have is the opportunity to bid on mega contracts. "We think it is our job to make it easier for them to participate – that is why we have embarked on a major outreach programme – so that they can see it is possible to be part of TeamHeathrow and, in parallel, we will get all the supreme shareholder value-for-money that British SMEs offer."
Therefore, in the last year, Heathrow has staged seven Business Summit events around the country, each providing systematic platforms for SMEs to get a foot in the door. "This is far more than just 'trickle down' – many companies won't be expecting to work directly with Heathrow, but will be suppliers to our suppliers. However, we have put in place the formal structures to introduce these parties. With this process we're programmed to make it possible for SMEs to capitalise on the business opportunities of Heathrow Expansion, while founding lasting relationships to transition to other projects all over the world later on."

The UK-wide Heathrow Supply Chain Hubs
Besides making it easier for SMEs to secure contracts for this "mega project" the actual means of working and delivery will also favour a diversified, nationwide supply chain. This is illustrated by Heathrow's current invitation for the establishment of four Supply Chain Hubs across the UK.
On the one hand the Supply Chain Hubs will deliver logistical efficiencies similar to those widely used in other construction sectors, notably house building. But it is not a technique commonly used in single large infrastructure projects.
The Supply Chain Hubs will mean components can be assembled off-site and brought to Heathrow as modules only when ready, instead of taking up "valuable space we don't have at an incredibly busy Heathrow." Diversifying component delivery across the UK will also significantly reduce the volume of heavy construction traffic on congested roads around Heathrow. "But besides the logistical, financial, and even environmental benefits, the Supply Chain Hubs will make it a lot easier for the whole country to participate by providing convenient physical locations where SMEs, and other suppliers, can deliver and process work together." Significantly Deighton also notes: "The hubs themselves will each result in the creation of many hundreds of jobs."
After the Olympics Legacy: The Heathrow Expansion legacy
While national infrastructure planning is slow in the UK, Deighton believes: "We are very tough on ourselves, in fact the Brits are very good at fast-building construction, and widely admired in other countries for what we did for the Olympics. We have a lot to do from when the spades go into the ground at Heathrow – but I expect us to be very efficient in our build because we are spending all our time now making sure that what we build works well, both for our airline and passenger customers, and the local community. This is the period when you make all the subsequent build processes straight forward."
So, following the successful Olympics legacy – if Heathrow Expansion generates a lot of new capability in building advanced airports, how should this be harnessed and deployed across the world? Deighton thinks that companies that get involved will also acquire natural advantages to export: "Heathrow is a wonderful brand – a wonderful wrap for its suppliers to bid for other projects and say: 'here's what we did for Heathrow' – just look at what a successful project that is."
The suppliers' "brand ambassador" on "TeamHeathrow"
Indeed, the former Olympics chief does not hold back in drawing further parallels with the magic and spirit of the London Games, and how this will translate into further prosperity: "I am delighted to work with our suppliers and I consider myself to be one of their ambassadors in a broad, worldwide, buy-British effort. Our concept is that it doesn't matter what individual organisation you are affiliated to – whether that is a major household name or an SME – we are all delivering something together as one team – TeamHeathrow – and, just like Team 2012, we're going to make this country proud."
Category: Event News•News