As you may know, at British-Irish Airports EXPO, we strive to host inclusive, accessible events that enable all individuals, not only those with visible or known disabilities, but also participants/attendees, with non-obvious disabilities, hearing loss, and/or chronic health conditions; enabling persons of all ages and body types, to fully engage in the program. We hope to showcase the easy adjustments that airports, airlines and their suppliers can utilise, to make a world of difference to the individuals using their services.
To support that ambition, you will have noticed that we have our 'Accessible Airport' conference – a forum for communicating the challenges and learning from the successful implementation of support systems within airports/airlines. This conference addresses the importance of catering to the needs of persons of reduced mobility and has been attentively curated with the guidance of the Civil Aviation Authority. We hope to announce our 2020 programme shortly, but in the meantime, please view our 2019 agenda for an overview of the key issues addressed: https://www.airports-expo.com/accessible-airport-the-2nd-airport-accessibility-conference/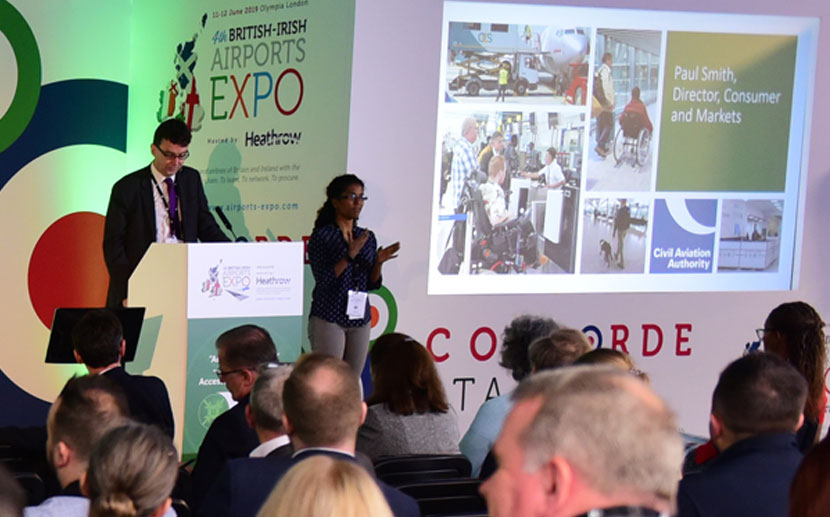 We are also pleased to share that the following adjustments; which have been made to ensure that both the venue and our event content are accessible to all:
Acoustics
To assist attendees with hearing impairment, we have facilitated the installation of an ampetronic hearing loop by ESL Systems, on the main conference stage. A dedicated reception area has been set aside and this is indicated by the internationally-recognised T-Loop signage. The organisers will also announce this facility, and provide direction to delegates wishing to use it.
Front row seats will also be reserved to allow for an undisturbed eyeline of our onstage presenters for lip readers.
Visibility
For individuals with impaired sight, care and consideration has been taken when planning our signage (identifying location and directions) around the event. The meeting space and adjacent areas will remain well lit, with the conference screens visible from all seated areas.
Mobility
For wheelchair users and other attendees with mobility impairments safe and undisrupted pathway is provided throughout the venue. Entrance points and our main conference stage are fitted with wheelchair ramps, while conference aisles, audience seating areas and doorways accommodate wheelchairs and scooters. The venue is furnished with accessible bathrooms, and step-free access to all levels of ExCeL London's car parks.
Venue
ExCeL London takes pride in being a fully-accessible venue. For further information regarding the efforts made by ExCeL London please visit their website:
https://www.excel.london/visitor/venue-guide/accessibility
Additional assistance
If you have specific needs which you would like for us to be aware of please do not hesitate to contact us, and we will do our upmost to accommodate these. Some of the ways that we might be able to help include:
Assistive listening device
Captioning
British Sign Language
Attendant carers
Note takers
Real time captioning
Reserved front row seat
Large print
Wheelchair access
Wheelchair access to working tables throughout room
Scent-free room
Lactation room
Gender neutral bathroom
All attendees will be provided with the opportunity to inform us of their accessibility requirements as part of their registration to participate in the event.
We welcome our communities feedback and support on expanding our awareness, and the ways in which we can improve accessibility at our event(s). If you have information, advice or assistance you wish to share, please do contact us.