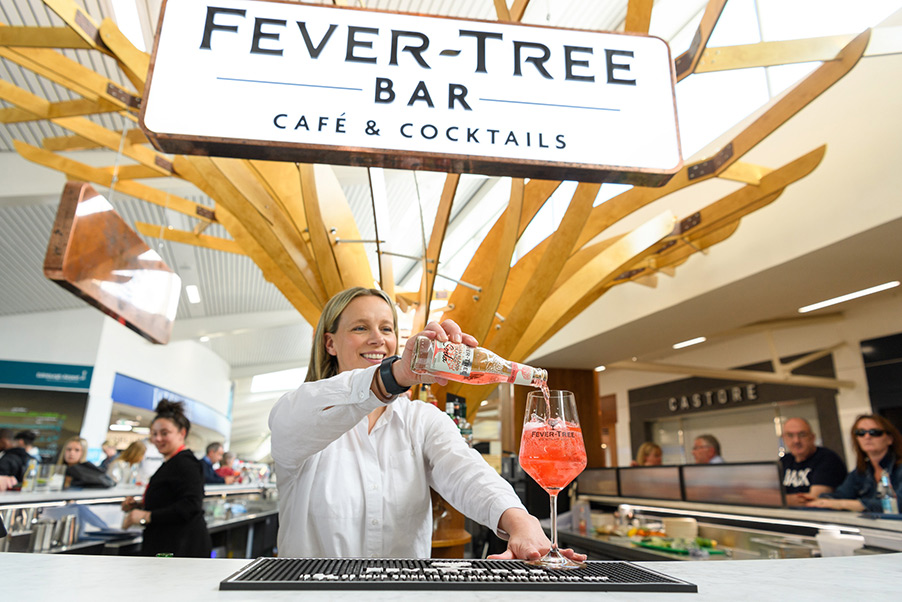 Edinburgh Airport is toasting the arrival of Fever-Tree's new bar and café, which could be just the tonic for passengers seeking a pre-flight refreshment.
The 51-seat bar, which features an eye-catching 'tree canopy', is the latest addition to Edinburgh Airport's comprehensive food & beverage offering. The brand expects to serve up more than 40,000 mixed drinks to domestic and international passengers in its first year after putting down roots at the airport.
The carefully designed drinks menu has been assembled to showcase the very best long mixed drinks – pairing Fever-Tree's mixers with selected spirits, sticking to its mantra: "If ¾ of your drink is the mixer, mix with the best." There is also a selection of beer, wine and bubbles on offer.
Passengers seeking a bite to eat can browse the breakfast and small plates menu where items are paired with a long-mixed drink. The options include gin and whisky-cured smoked Scottish salmon and chorizo cooked in Fever-Tree's Ginger Ale, as well as Fever-Tree Mediterranean Tonic marinated olives – the ultimate bar snack.
Fever-Tree worked with designers Russell Sage Studio to create the bar, with lighting and furnishings specially selected to create a relaxing and sophisticated atmosphere which brings nature into the venue.
Gordon Dewar, Chief Executive, Edinburgh Airport, says: "Build back better they say. When our retailers had to close due to the pandemic, we focused on doing just that – and what's better than welcoming new partners and new concepts to the airport to deliver a fantastic passenger experience? Adding Fever-Tree is the perfect tonic. Exciting? Of course. Better? Of course!"
Every Fever-Tree mixer served at the bar is carbon neutral, as part of its commitment to work with nature, not against it.
Tim Warrillow, co-founder and CEO, Fever-Tree, says: "Over a decade on from when we pioneered premium mixers, we continue to lead the way in elevating drinking experiences – this time at an international travel hub that is Edinburgh Airport, with our first-ever airport bar and café. We are looking forward to sharing more drinks with travellers from around the world as we embark on our journey to premiumise airport drinking and dining globally."