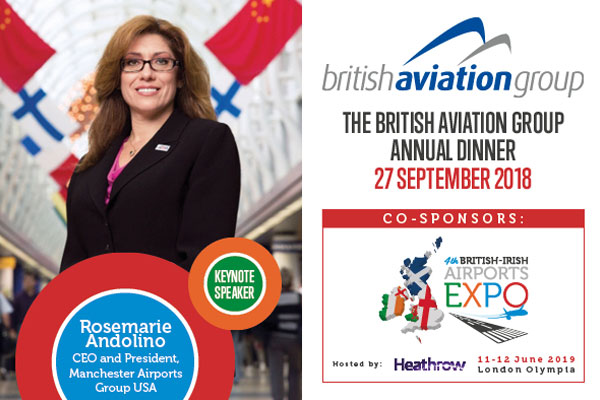 The British Aviation Group Annual Dinner, 27 September 2019; Park Lane Hotel, London is again co-sponsored by the British-Irish Airports EXPO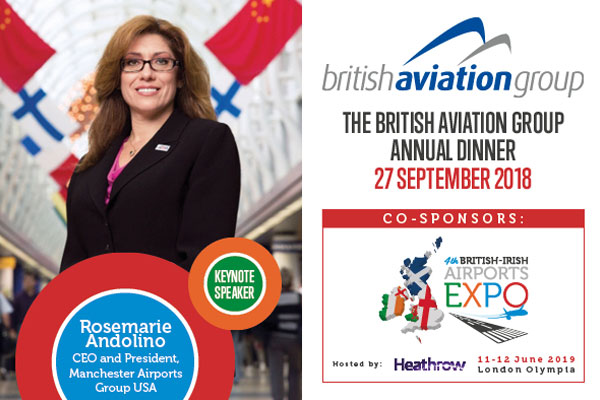 The British Aviation Group Annual Dinner on 27 September 2018 at the Sheraton Grand London Park Lane, Piccadilly, is again co-sponsored by the British-Irish Airports EXPO along with fellow BAG members, Gardiner & Theobald and ACC. Over 360 guests and representatives of British companies involved in airport development have booked their attendance. Following in the footsteps of last year's guest speaker, the Heathrow CEO John Holland-Kaye, this year's keynote speaker is Rosemarie Andolino, CEO and President, Manchester Airports Group USA.
Andolino, previously Commissioner of the Chicago Department of Aviation, oversaw the management and operation of Chicago's O'Hare and Midway International Airports during a period of rapid expansion and redevelopment including the $8 billion O'Hare Modernization Program. She now steers MAG USA's three core business lines of terminal and retail development, car parking services, and common-use airport lounges (at Oakland, Minneapolis and Hartford).
BAG Board Elections: use your vote!
The British Aviation Group is the leading representative body for over 200 British companies involved in aviation and airport development and operations. The British-Irish Airports EXPO is a member of BAG and proud to be a closely-held partner. 20 nominations have been received and voting is now open for the BAG Board Elections 2018 for a total eight board places. Votes must be cast by Tuesday 25 September 2018. Only BAG members are eligible to vote, full details through the BAG website or check your inbox for the voting forms from Bettina Rigg.