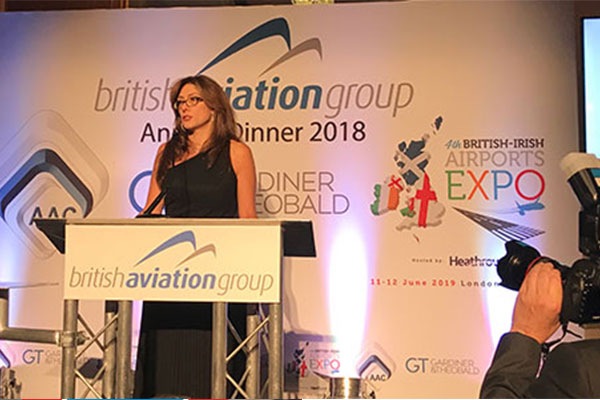 27 September 2018; Park Lane Hotel, London: 20th British Aviation Group Annual Dinner Co-sponsored by the British-Irish Airports EXPO, Gardiner & Theobald, Kier, and AAC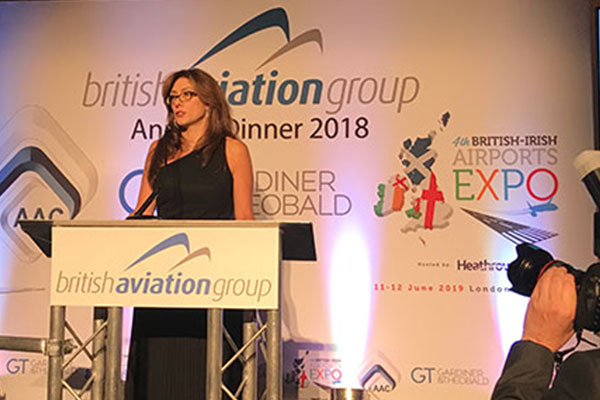 27 September 2018; Park Lane Hotel, London: 20th British Aviation Group Annual Dinner Co-sponsored by the British-Irish Airports EXPO, Gardiner & Theobald, Kier, and AAC
This year's landmark 20th British Aviation Group Annual Dinner drew over 370 airport industry guests, and representatives of British companies, to the capacity-filled art deco Grand Ballroom of the Park Lane Hotel.
Star guest speaker Rosemarie Andolino, CEO and President Manchester Airports Group USA, (and former boss of the Chicago airports), told guests how MAG is already positioning itself for future US airport privatisation through engagement in retail developments, car parking services, and its common-use "Escape Lounges" (now on 11 airports). "The US is late to join the airport PPP market, but as financially-constrained cities turn to privatisation, they will benefit from the lessons of the UK," she says.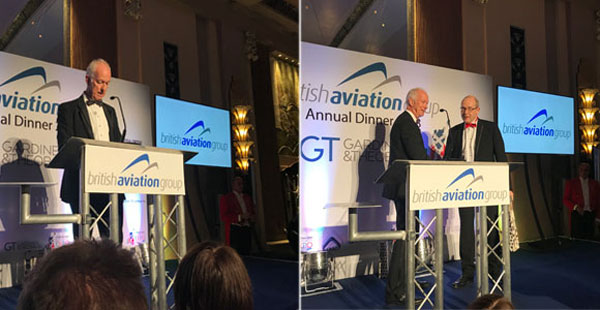 BAG's brand new Chairman Mike Forster of Forster Associates, thanked the outgoing Chair of the last two years – Mott MacDonald's Graham Bolton, for his "energy, intelligence and leadership" – and asserted that "BAG's 20 years is not a milestone, it's a stepping stone." While the anniversary had seen the group expand to 209 British companies, Forster stressed that the emphasis would remain on key initiatives to support member enterprises:
BAG wants to emulate the succeeding Northern Cluster Group with new clusters in Northern Ireland and Scotland.
The Next Gen Group – "This will continue to bring on the next generation of British airports industry leaders. Members should continue to support this process and get your promising young people involved."
As an accredited Trade Challenge Partner of the Department for International Trade (DiT) BAG continued to receive considerable intelligence and direct engagement with overseas airports projects through Inward and Outward Missions. DiT support is of particular importance in support of priority markets such as India, Poland, Australia, China etc.
Forster also took time to praise the Member Engagement Workshops which he had personally hosted as the then-Deputy Chair at last June's Heathrow-hosted British-Irish Airports EXPO.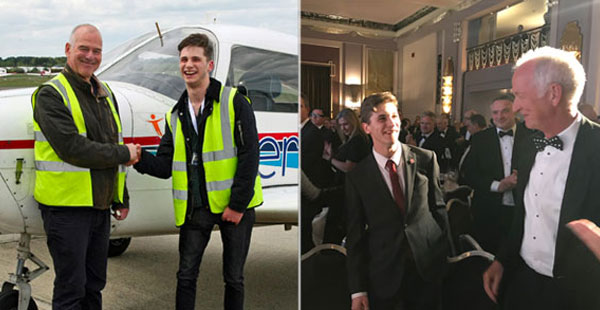 £4,500 raised on night for Aerobility charity. 20 year-old Harvey Matthewson won a prolonged standing applause for his awe-inspiring and hilarious off-the-cuff speech; the story of his struggle of "shackles and exclusion" stemming from his cerebral palsy, through to the "best day of his life" when he took his first solo flight as a pilot with Aerobility, the BAG-supported charity which "offers disabled people, without exception, the opportunity to fly an aeroplane."
Aside from being well on his way to achieving his private pilot licence, Harvey, who also works at Aerobility's 5-aircraft strong Blackbushe Airport base, credits the charity with more than the ability to fly: "I have a real direction for the first time – Aerobility is a dream machine that changes your life."
Orion Systems is a British-Irish Airports EXPO winner! Orion Systems' Managing Director, Fred Durnford (second from left) steps up to accept his Prize Draw winnings – a booth at next June's Heathrow-hosted British-Irish Airports EXPO worth £3,895. "We came to the BAG Dinner as guests of our partners and co-hosts AAC – we also came to last year's EXPO, so this chance to exhibit will be a real boost to our growing UK and overseas airport business," said Durnford.
"As a closely held-partner of BAG, we cherish our BAG membership and are thrilled with the benefits of co-sponsoring BAG's Annual Dinner along with our friends from Gardiner & Theobald, AAC and Kier," said British-Irish Airports EXPO director, Paul Hogan. "We look forward to continuing the EXPO's closely-held partnership with BAG and host BAG's Special Interest Groups and Member Engagement Workshops at next June's Heathrow-hosted event."