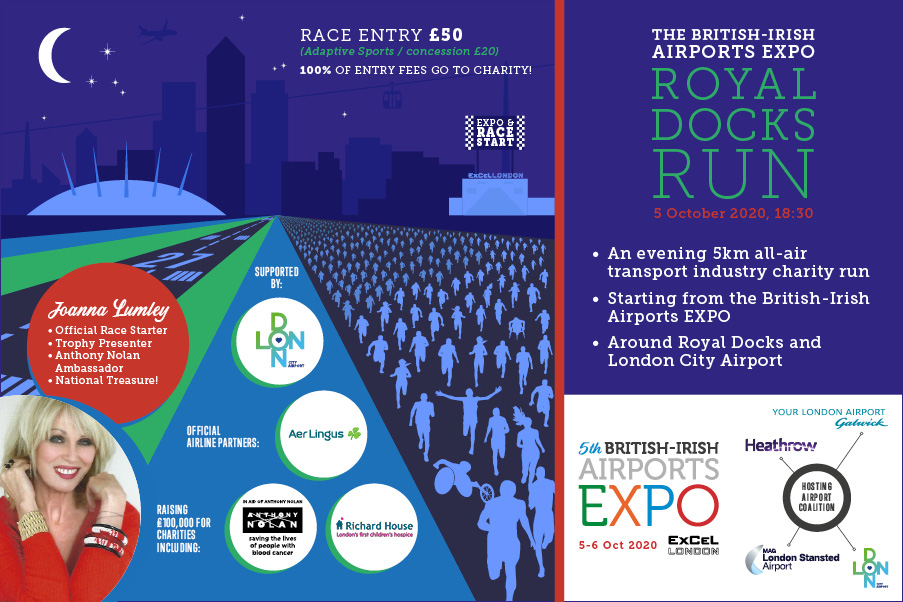 It's true!!! Joanna Lumley will be the official race starter of The British-Irish Airports EXPO Royal Docks Run, a 5km air transport industry evening charity race starting at 18.30 on 5 October from the British-Irish Airports EXPO at ExCeL, and following a stunning waterside route around the resurgent Royal Docks alongside London City Airport.
Attention! British-Irish Airports EXPO Royal Docks 5k Run has now been cancelled.
Should you have any questions, please contact us here.
Miss Lumley, a star of TV, film, the British Airways inflight safety video, and Ambassador for the bone marrow transplant charity, Anthony Nolan, will start the race, and present prizes to the winners including Fastest Airport, Fastest Airline, Fastest Airport Firefighter, etc etc.
100% of entry fees will be donated to the charitable causes:
Anthony Nolan is a closely-held cause of British-Irish Airports EXPO director, Paul Hogan, whose daughter Brontë (12) passed away after a five-year battle with leukaemia, a brave struggle which included two bone marrow transplants from a lovely donor in Texas organised by Anthony Nolan.
Richard House – London's first Childrens' Hospice, provides palliative care to children with life-limiting and life-threatening conditions across London. The charity has a two-decade long partnership with London City Airport which, together with staff, has raised some £900,000 to support children and their families at its East London site.
"Bron's Medal" for every finisher
Entrants do not have to pester relatives and co-workers for sponsorship! All you have to do is pay a flat entry fee of £50 – there is a reduced £20 fee for Adaptive Sports competitors and others entrants requesting concession. Race entrants must also register for a FREE PASS to the British-Irish Airports EXPO. Every finisher will receive the "Bron's Medal" commemorating the life of Brontë Hogan (1998-2011).
Air transport team prizes presented by Miss Lumley
Prizes to be presented by Miss Lumley on the EXPO's Concorde Stage within the exhibition include:
Fastest Finisher Male/Female
Fastest Adaptive Sports Finisher Male/Female
Fastest Airport Team
Fastest Airline Team
Fastest British Airport Supplier
Fastest Irish Airport Supplier
Fastest Airport Firefighters
Fastest Airport Concession
Fastest Military Aviators/Uniformed Service
Fastest Ground Handler
Fastest Airport Security Team
Want to Suggest A New Team Category?
We welcome submissions for new team categories – Fastest Baggage Handler, Fastest Baggage Trolley Returner etc etc – as long as your suggested team are not likely to be the only entrants and winner in the category.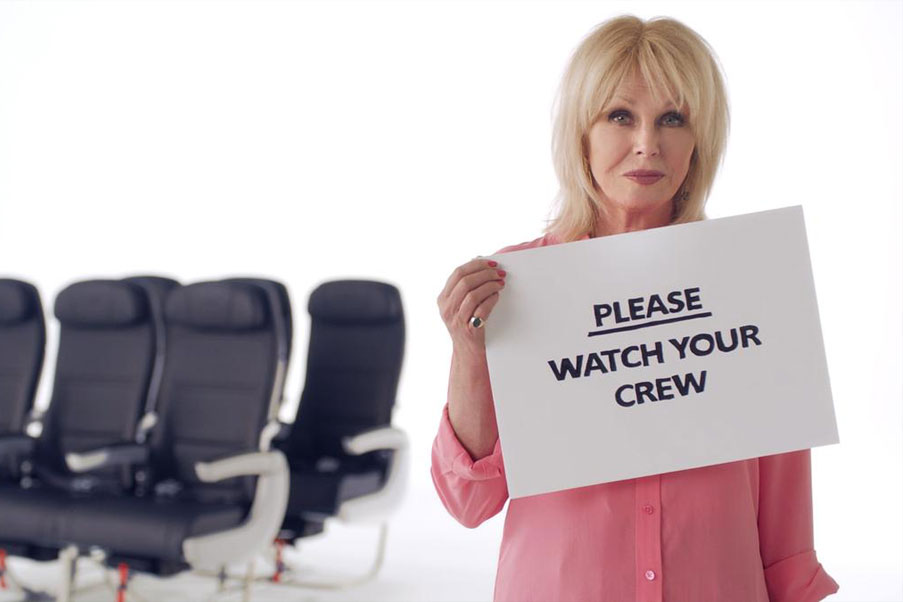 Attention! British-Irish Airports EXPO Royal Docks 5k Run has now been cancelled.
Should you have any questions, please contact us here.