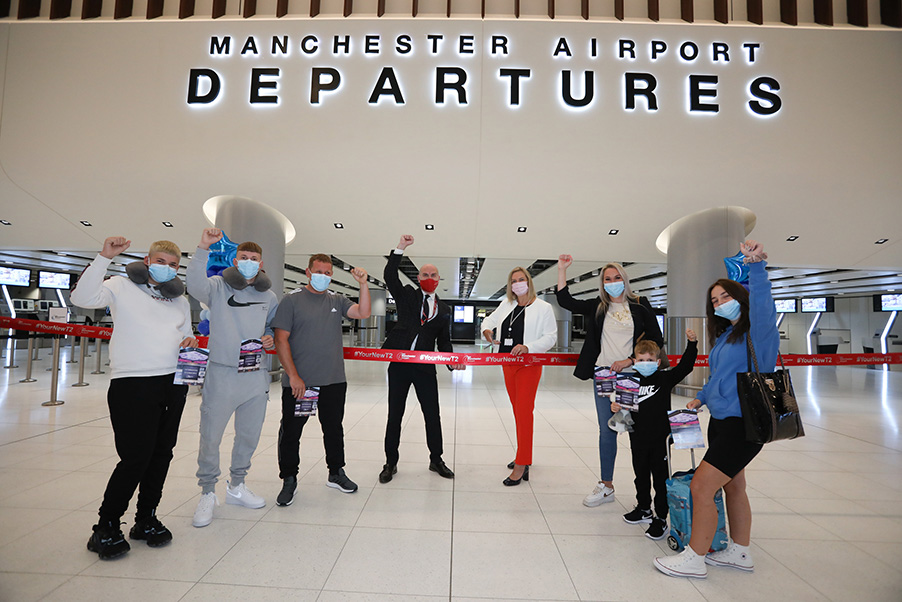 The first passengers travelled through Manchester Airport's new terminal extension on 14 July 2021. A Jet2.com flight to Menorca was the first to take-off from the expanded Terminal 2, which is the centrepiece of the £1 billion Manchester Airport Transformation Programme (MAN-TP).
Work started on the transformation in 2017 and – despite a delay of more than one year to the opening as a result of the pandemic – the facility was officially opened by Karen Smart, Managing Director, Manchester Airport, and Marc Burns, Jet2.com's General Manager at Manchester Airport, in a ribbon-cutting ceremony.
Passengers then had their first opportunity to sample the new terminal's state-of-the-art facilities, including a worker bee inspired honeycomb lighting feature and a giant media wall.
A range of new shops, cafes, bars and restaurants also opened their doors, with more to open as passenger numbers increase.
Passengers were treated to a range of entertainment from local bands and a DJ. Plus, a prize draw giveaway for Jet2.com flights and 1903 Lounge passes.
The first passengers through the doors going to Menorca were the Thompson family from Preston, Lancashire.
Two further Jet2.com flights departed from the terminal on 14 July 2021, joined on 15 July 2021 by TUI passengers. It is hoped that further airlines will transition to operating from the new terminal in the coming weeks as demand for travel increases.
"This is a hugely significant milestone for our airport, our city, the North as a whole and the wider recovery of the travel industry," said Karen Smart, Managing Director, Manchester Airport. "After a hugely challenging 16 months, we are delighted to be delivering some positive news and welcoming the first passengers into our new terminal extension. When we first announced our £1 billion transformation programme in 2015, we set out a vision to create state-of-the-art facilities that provided a first-class customer experience and cemented our role as the UK's global gateway in the North. It is clear to see that vision has been realised and I would like to thank all our colleagues and partners who have worked on the project since the start. The impact of the pandemic on the travel industry means we are not able to immediately welcome as many customers and airlines into this fantastic new facility as we would have hoped. However, as government restrictions continue to be eased, and travel to more destinations is opened-up in the weeks ahead, we will be making further announcements about the carriers and retailers operating from Terminal Two."
Steve Heapy, CEO Jet2.com and Jet2holidays, said: "The new terminal extension at Manchester Airport is fantastic news for our customers, and we are delighted to be the first airline to take off from the expanded terminal this morning. From today all of our flights will depart and arrive from the expanded Terminal Two, with the exception of arrivals from Jersey. This means all Jet2.com and Jet2holidays customers get to enjoy the state-of-the-art facilities before jetting away on their much-needed flights and holidays. With travel restrictions easing, we have a wide choice of quarantine free destinations on sale from Manchester Airport this summer, and the demand for our flights and holidays means lots of customers will be enjoying the new terminal extension this summer and beyond."
The expanded terminal's light, bright and airy check-in hall sets the tone for the passenger experience, with a modern security area equipped with the latest technology, and a departure lounge packed with iconic features including a honeycomb light installation and a new 81sqm digital screen.
A wide range of new shops, bars, cafes and restaurants will feature in the new terminal, with local brands Archie's, The Bridgewater Exchange by Joseph Holt and Pot, Kettle, Black open initially, in addition to two new, exclusive passenger lounges.
Construction firm Laing O'Rourke has spearheaded the programme of works, supported by partners including architects Pascall + Watson, design consultancy Arcadis and airfield works contractor Galliford Try.
Manchester Airports Group in Hosting Airport Coalition for 5th British-Irish Airports EXPO
The 5th British-Irish Airports EXPO will take place on 22-23 June 2022 at ExCeL London, backed by a Hosting Airport Coalition of Heathrow, Manchester Airports Group and Gatwick.
Key Strategic Partners are the British Aviation Group (BAG), the airport supplier trade association representing over 200 companies, and the Regional and Business Airports Group (RABA), the regional airports trade association of over 40 UK and British Dependency airports.
The 5th British-Irish Airports EXPO is the trade show for ALL stakeholders on the airport campus. It typically features up to 150 exhibitors and six conferences, and is attended by 2,300++ visitors.
Pre-register for the 5th British-Irish Airports EXPO >>
Exhibit at the 5th British-Irish Airports EXPO >>