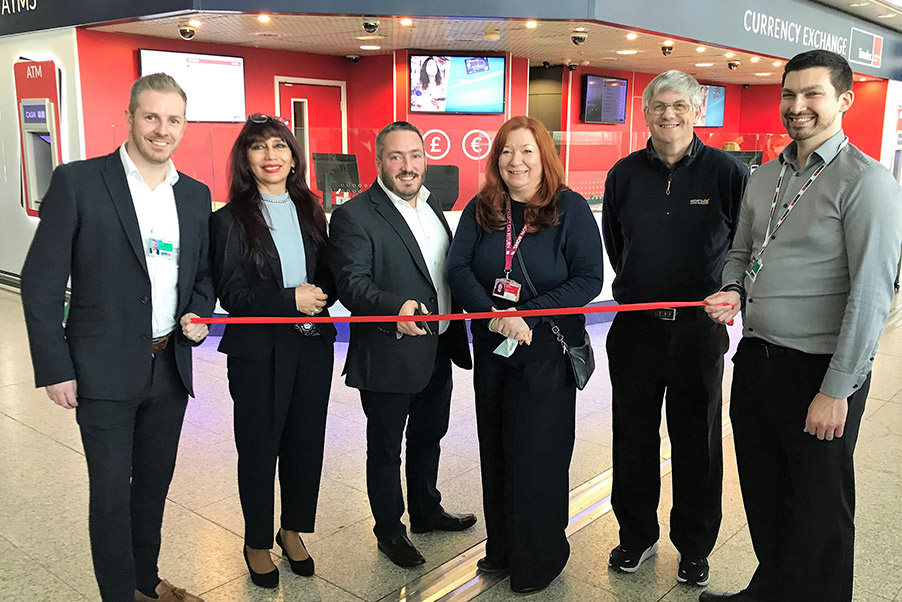 Travelex has launched a full range of bureaux and ATM services at London Stansted Airport.
The launch of services at London Stansted – which handled more than 28 million passengers in 2019 – means Travelex now operates at all three Manchester Airports Group (MAG) airports, having recently re-won and started services at East Midlands Airport in addition to existing facilities at Manchester.
The launch at Stansted also means Travelex now operates at three of the UK's four busiest airports: London Heathrow, ranked first; Manchester, ranked third; and London Stansted, ranked fourth.
Travelex initially launched 17 ATMs at London Stansted, before recently opening its first two manned stores – all in record time. The bureaux will provide customers with a full range of traditional foreign exchange services, including access to over 50 currencies.
For added convenience, customers will also be able to withdraw cash from Travelex ATMs and take advantage of Travelex's click and collect service, by ordering their money in advance and collecting from the airport.
Travelex will, over the coming months, be looking to expand its London Stansted footprint in several ways – including by broadening its range of ATM currencies and increasing its number of bureaux, with the bureaux growth potentially creating dozens of new and local sales and management jobs in the process.
Philip Barter, Commercial Director, Travelex UK and Africa, said: "We are delighted to be able to serve our global customers at London Stansted – an iconic international airport that needs no introduction. With the travel and foreign exchange industries having faced a challenging pandemic period, our launch at London Stansted marks a significant step in the industry's wider recovery."
Stephen Turner, MAG Group Retail and Commercial Director, said: "We're very pleased to welcome Travelex to London Stansted, who now have a strong presence at all three MAG airports. The strength of our partnership with Travelex was a key driver in the record time we were both able to come together and open the new bureaux, providing our passengers with convenient access to a wide range of currency services, both on the day and pre-ordering for collection at the airport."
Manchester Airports Group in Hosting Airport Coalition for 5th British-Irish Airports EXPO
The 5th British-Irish Airports EXPO will take place on 22-23 June 2022 at ExCeL London, backed by a Hosting Airport Coalition of Heathrow, Manchester Airports Group and Gatwick.
Key Strategic Partners are the British Aviation Group (BAG), the aviation trade association representing over 200 UK airport suppliers, and the Regional and Business Airports Group (RABA), the regional airports trade association of over 40 UK and British Dependency airports.
The 5th British-Irish Airports EXPO is the trade show for ALL stakeholders on the airport campus. It typically features up to 150 exhibitors and six conferences, and is attended by 2,300++ visitors.
Pre-register for the 5th British-Irish Airports EXPO >>
Exhibit at the 5th British-Irish Airports EXPO >>