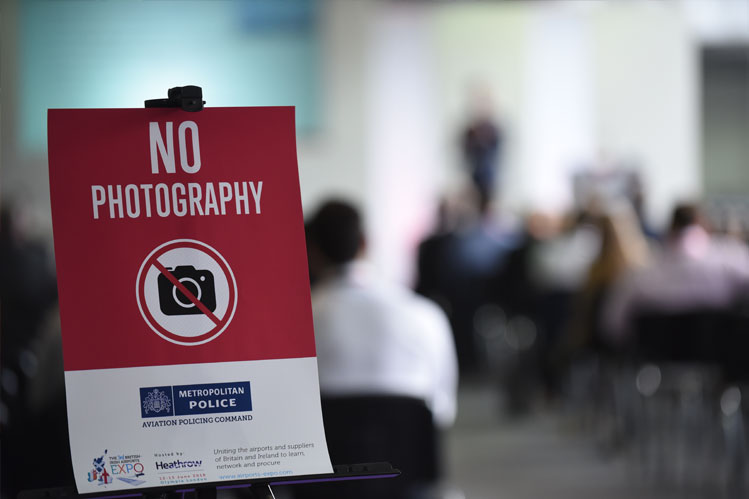 3rd Metropolitan Police Aviation Policing Command Airports Counter Terrorism Conference announces Key Theme:

"Policing Drone Incursion at UK airports: An all-stakeholder approach to prevention and response"
Firmly continuing with its all-airport-stakeholder approach, the MPS will significantly expand its examination of UAS airport incursion at the 3rd Annual Metropolitan Police Aviation Policing Command Airports Counter Terrorism Conference, to be staged at the Heathrow-hosted British-Irish Airports EXPO on 12 June 2019.
The MPS has previously discussed the perceived terrorist and criminal threat to airports with invited regulatory and drone-mitigation experts but, following the recent escalation marked by the Gatwick and Heathrow UAS incursion incidents, this will now be significantly extended to an expanded structure including:
Airport UAS protective measures and early-warning capability
UAS incursion detection and elimination in the airport theatre
UAS defence systems compared
The need for future regulation
The expansion of Project Servator to airport counter-UAS initiatives
Leadership and multi-agency response to malicious UAS airport incursion
Now in its third year this entirely free-of-charge conference is especially designed to meet the Metropolitan Police Aviation Policing Command desire to embrace all stakeholders on the airport campus. The 2018 event was attended by airport police commanders and representatives from 12 police services covering 30+ UK airports, together with 170+ delegates from airports, airlines, and other security providers and stakeholders.
Other 2019 conference ideas submitted by Airport Police Commanders
Protecting the landside environment: fast-developing technology for identifying threats before suspects reach terminals.
The Insider Threat: Considering the risk posed to all parts of the airport, not only by the "malicious insider", but what the TSA call "complacent" and "ignorant" non-malicious insiders.
Embedding a different security culture: Following Australia's "Meat Grinder Plot" some airports have reviewed the culture among X-ray viewers – "at zero cost.
Disruptive Passengers – the new National Memorandum and Operation Calina: The "yellow card" warning system for airports.
Prohibited Items in hand baggage. Reducing the causes of significant cost, delay, and distraction.
The repatriation of deceased radicalised fighters at UK airports – dealing with communities and public order events involving hundreds of mourners on airport campus.
Perimeter protection – a London City Airport case study.
Confirmed keynote speaker
Peter Drissell, Director Aviation Security, Civil Aviation Authority
Conference Chair: Stacey Peel, Global Aviation Security Lead, Arup, Security Group Chair, British Aviation Group
Official event security provider: Wilson James