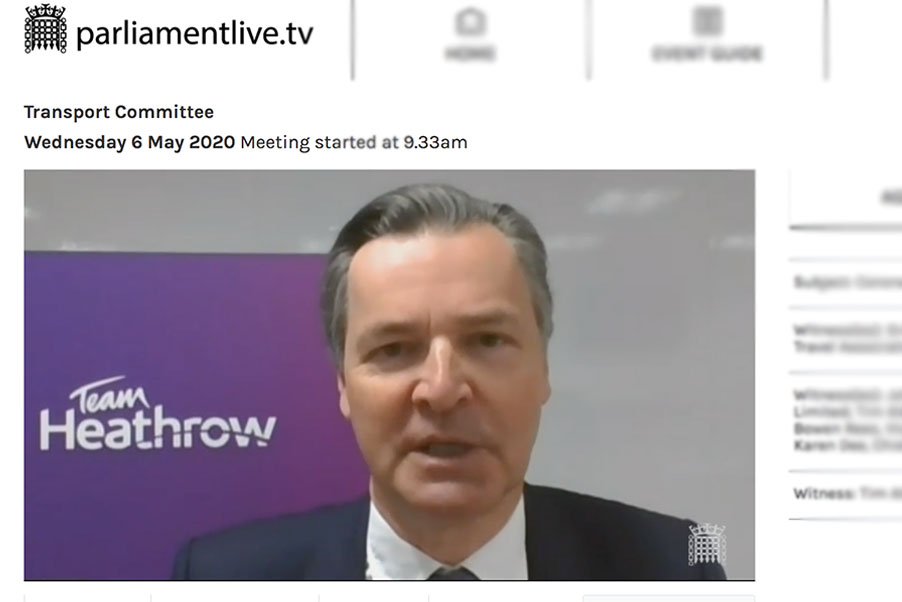 Heathrow + Regional And Business Airports Group (RABA) show united front to Select Committee
6 May 2020: Today John Holland-Kaye, Chief Executive Heathrow Airport, further heated up his airport's campaign for the UK Government to take a lead in setting a Common International Standard for aviation health screening – "as they have done for security." Heathrow has said these standards should be agreed in six weeks – by mid-June.
Giving evidence to the Transport Select Committee Holland-Kaye said: "I chaired a meeting last week with the chief executives of some of the big hub airports around the world to share their experience – places like Los Angeles, Hong Kong, and Sydney – so that we can together come up with a common global standard for how we do health screening."
What concerns Holland-Kaye is that "in March each country came up with its own policy based on very little information about the nature of the disease, and that led to a haphazard approach of measures in different airports."
As the lockdown lessens Heathrow wants a common way of doing things. "Already you can see UK airports and airlines are starting to introduce their own measures and, if this happens in an uncoordinated way, not only will it not tackle the issues, it will add to more confusion among passengers – that's why the UK government should take a lead with its partners in the EU and USA, and develop a common international standard for health checks."
Heathrow announces COVID detection trials
Heathrow has already written to Public Health England to ask "why it has concluded that temperature checks are ineffective." In the meantime, Holland-Kaye announced to the Transport Select Committee a package of trial screening measures including UV sanitation, contact-free security screening equipment, and facial recognition thermal screening technology to accurately track body temperature.
Before any new measures are rolled out across the airport, Heathrow says they will be reviewed against its three tests to ensure that they are: medically grounded; build consumer confidence; and are practical for airports to deliver.
Holland-Kaye also observed that the first meeting of the Department for Transport's "COVID-19 Aviation Restart, Recover & Engagement Task Force" was also taking place today: "That will be a good start, and I look forward to seeing what comes out of that."
Cardiff CEO represents 40+ RABA regional airports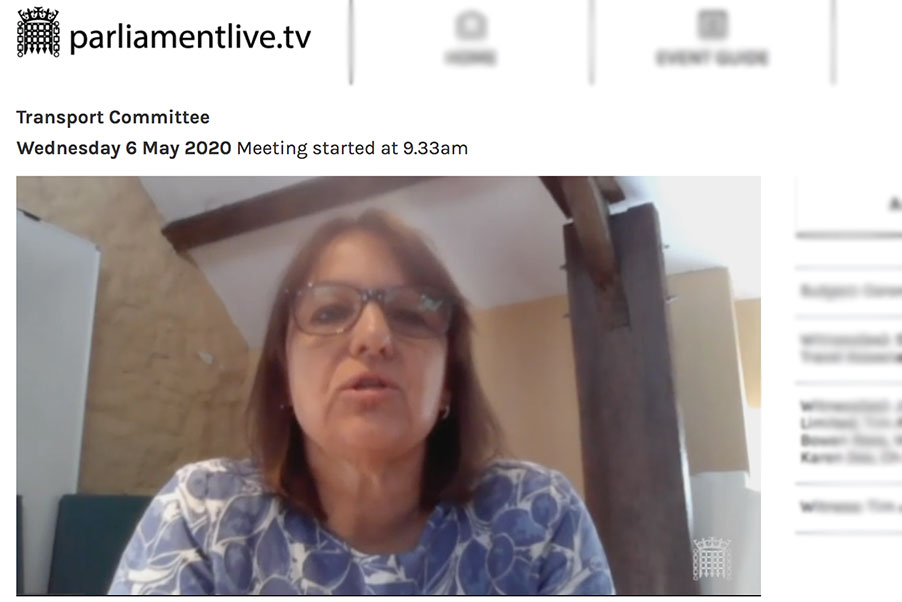 Also giving evidence on behalf of the 40+ regional airports of the UK and Crown Dependencies, Deb Bowen Rees, Vice Chair of the Regional And Business Airports Group (RABA), and CEO Cardiff Airport, also stressed the importance of the "Restart-Recover" task force, echoing Heathrow: "It needs to come out with internationally agreed measures quickly. If we don't get clarity, airports will have to introduce local initiatives, which doesn't help with passenger confidence."
Bowen Rees: "Revive Regional Air Connectivity Review"
Stressing that "regional airports are not just businesses but critical infrastructure, and vital to the government's 'levelling out' policy to spread economic growth to regions," Bowen Rees said the government now had to move forward with the Regional Air Connectivity Review originally announced at the time of the February FlyBE collapse, but since overtaken by events. "There is a huge opportunity to fill the gap in the market left by FlyBE, but for domestic routes to start we need to create a favourable framework to give the airlines confidence. This means ensuring as much clarity as possible on support for public service obligation (PSO) routes, and Air Passenger Duty."
Because regional airports are "critical regional infrastructure" Bowen Rees also told the Select Committee that "long term consideration now needs to be urgently given to supporting the disproportionate cost burden of regulation on regional airports" – especially the high cost of safety and security which is state-assisted in many other European countries.
Both RABA and Heathrow are part of the coalition supporting this year's British-Irish Airports EXPO along with Gatwick, MAG/Stansted, and London City Airport.