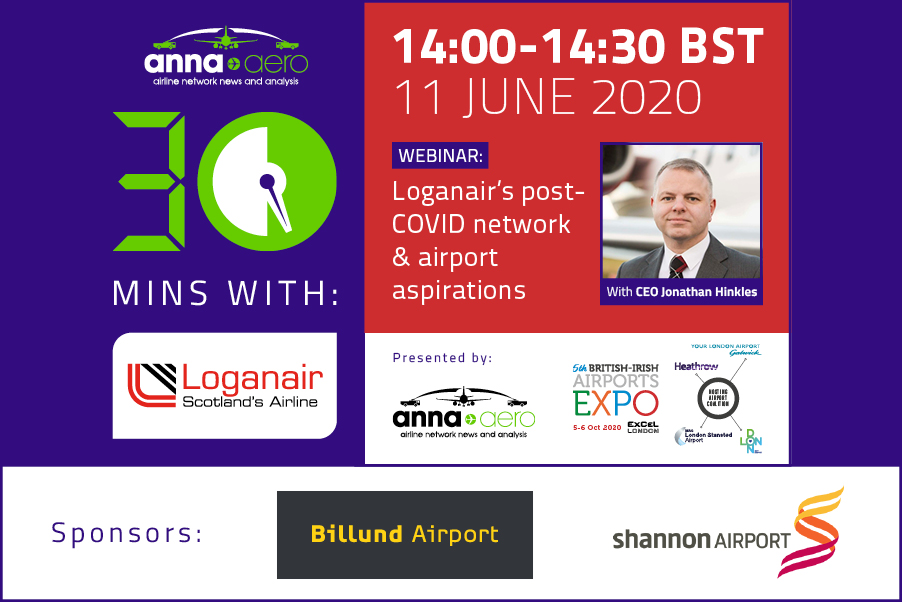 STOP PRESS: Hinkles at the British-Irish Airports EXPO

STOP PRESS: Hinkles at the British-Irish Airports EXPO
Loganair CEO Jonathan Hinkles will give the Keynote Address to the Regional And Business Airports Group AGM at the British-Irish Airports EXPO 5 October 2020
Webinar: 14.00-14.30 BST, 11 June 2020: For many regional airports Loganair offers the single-best prospect of achieving viable air services when business properly re-starts after the COVID-19 emergency. The webinar is entitled: "Where to Next: Loganair's post-COVID network and airport partnership aspirations."
Loganair's growth is fantastic. From relaunch as an independent in 2017, "Scotland's Airline" smashed through the 2 million-seat threshold in 2019. With over 25 routes due to start in 2020, including 16 following the demise of Flybe in February, Loganair's network has expanded to over 70 routes across six European countries.
Loganair webinar lasts just 30 mins!
This webinar, the first in a new "30 Minutes With" series, is jointly presented by anna.aero and the British-Irish Airports EXPO. It is also supported by the Regional And Business Airports Group (RABA) – the trade body for over 40 UK and Dependency airports – guaranteeing full bandwidth across Loganair's core home market.
The entire webinar will last no more than 30 minutes including:
The Jonathan Hinkles interview
Loganair network development discussion and analysis
Invited Q&A
…and a few words from our sponsors
Join in, engage, and learn all you need to know about "Scotland's Airline – the most important regional airline in the UK – and Ireland."