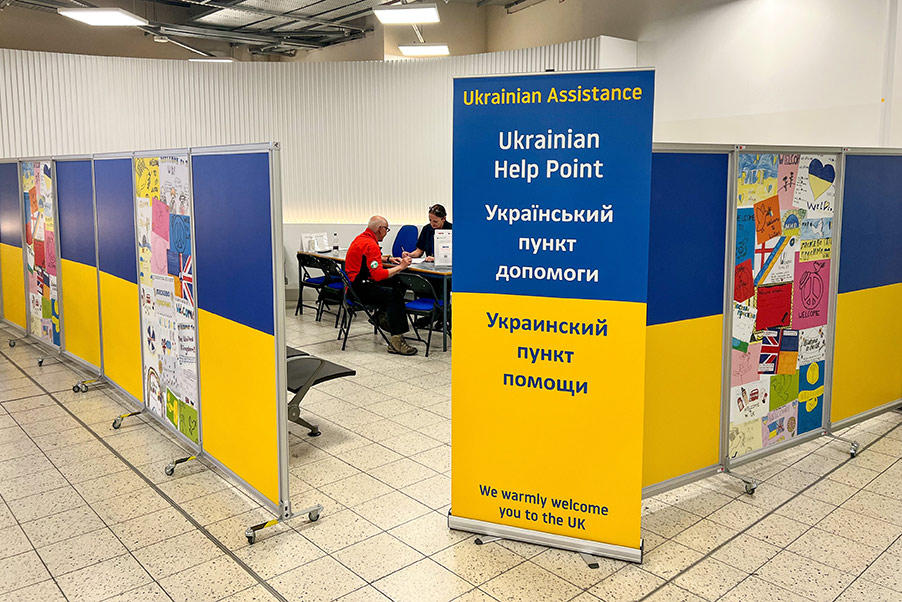 A humanitarian hub has been set up at London Luton Airport to provide practical support for air passengers arriving from war-torn Ukraine.
Organised by Bedfordshire's Local Resilience Forum which brings together partners such as local authorities, NHS Clinical Commissioning Groups, emergency services, the charity and voluntary sector and the airport, the hub operates by providing a warm welcome to those suffering the trauma of being uprooted from their homeland.
At the hub, arrivals are greeted by volunteers from the Bedfordshire and Luton Emergency Volunteers Executive Committee, British Red Cross and the Airport Chaplaincy.
As well as a friendly face, refreshments are provided, while advisers are able to give guidance for onward travel within the UK. Paramedics from the Hearts First Ambulance Service are also on hand to provide mental and physical health support information.
A whole array of advice, information and useful contact numbers from local and national agencies is available for the arrivals, many of whom are bewildered and confused by recent events and facing a very uncertain future.
Alberto Martin, CEO London Luton Airport, said: "As an international airport we help to connect cultures, places and people, so it has been heart-breaking to witness events unfold in Ukraine. We are proud of the support we provide to our communities and are glad we can play a small part in ensuring a warm welcome to Ukrainian families as they arrive in the UK."